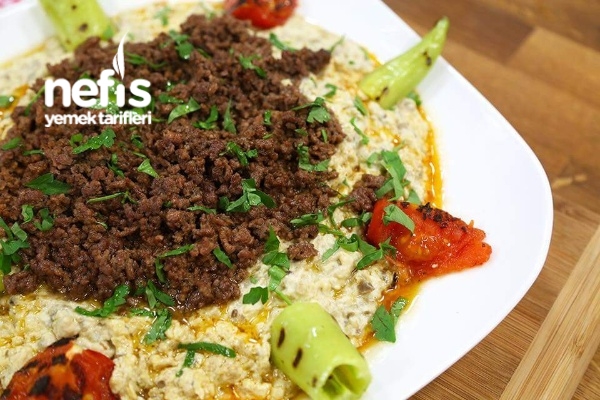 <br />
Materials For The Definition Of Ali Nazik With Mince
For eggplant;
4 eggplants – roasted
2 cloves of garlic
2 tablespoons butter
5 tablespoons of filtered yogurt
Salt
Pepper
For Mince Mortar;
2 tablespoons of olive oil
400 gr beef mince
Salt
Pepper
Take powder pepper
To decorate;
1 tomato
1 pointed pepper
½ bunch of parsley – finely chopped
Minced Meat with Ali Nazik Definition
Divide the peppers and tomatoes into 4 equal modules, heat the trail pan on the stove and cook to the ground.
Grind the eggplants, peel them, season with salt pepper and chop them with a knife. Add the garlic and continue to mince.
In a frying pan, add the minced meat, salt and pepper and fry.
Melt the butter in another pan. Put the eggplant that you have blended together with minced garlic into the pan and heat it properly. Then take the eggplants from the pan and mix them with yogurt.
Spread the eggplant on the plate for service. Sprinkle with minced meat and 1 pinch of chopped parsley. Place tomatoes and peppers next to them. Serve the butter that you have angered with the pepper and serve.