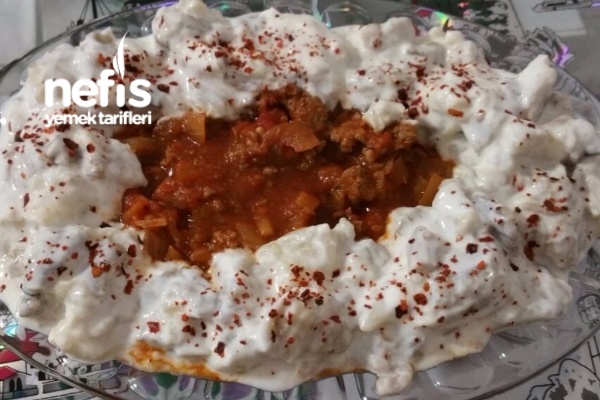 <br />
Tools for the definition of Ali Nazik Kebab with Minced Meat
2 eggplants
1 cup yogurt
2 cloves of garlic
Salt
For Mince Mortar,
250 grams of minced meat
2 pieces of cerliston pepper
1 onion
2 tomatoes
Half a glass of water
2 tablespoons of liquid oil
One teaspoon of salt, hot pepper, powder pepper
Black pepper with teaspoon tip
Definition of Ali Nazik Kebab with Minced Meat
Firstly, eggplants are washed, dried and rubbed into the oven by applying light oil to each place (for easy peeling). While roasting the eggplants, the minced meat is prepared. First, onions are lightly turned in oil, minced meat and pepper are added and roasted. Then tomatoes and spices are added and fried a little, and water is added and cooked over low heat. After the eggplants are cooled, they are cleaned and chopped and mixed with yogurt, garlic and salt. A minced mortar is placed in the middle of the serving plate, and an eggplant mixture is placed on the sides and a little hot pepper is added on it. BON APPETIT.